The possibility of deploying and commercializing BMI/BCI-based solutions requires researchers, manufacturers, and regulatory bodies to ensure these devices comply with well-defined criteria on their safety and effectiveness. BMI/BCI systems typically require integration of multiple sub-components comprising measuring and analysis of neural activity, and provision of feedback to the user through different means (including displays, virtual reality systems, haptic interfaces and exo-skeletons, among others). The lack of specific standards on neurotechnologies for BMI/BCI hinders the interoperability, and regulatory compliance of new devices and in consequence, consists a barrier for industrial applications to access a wide market.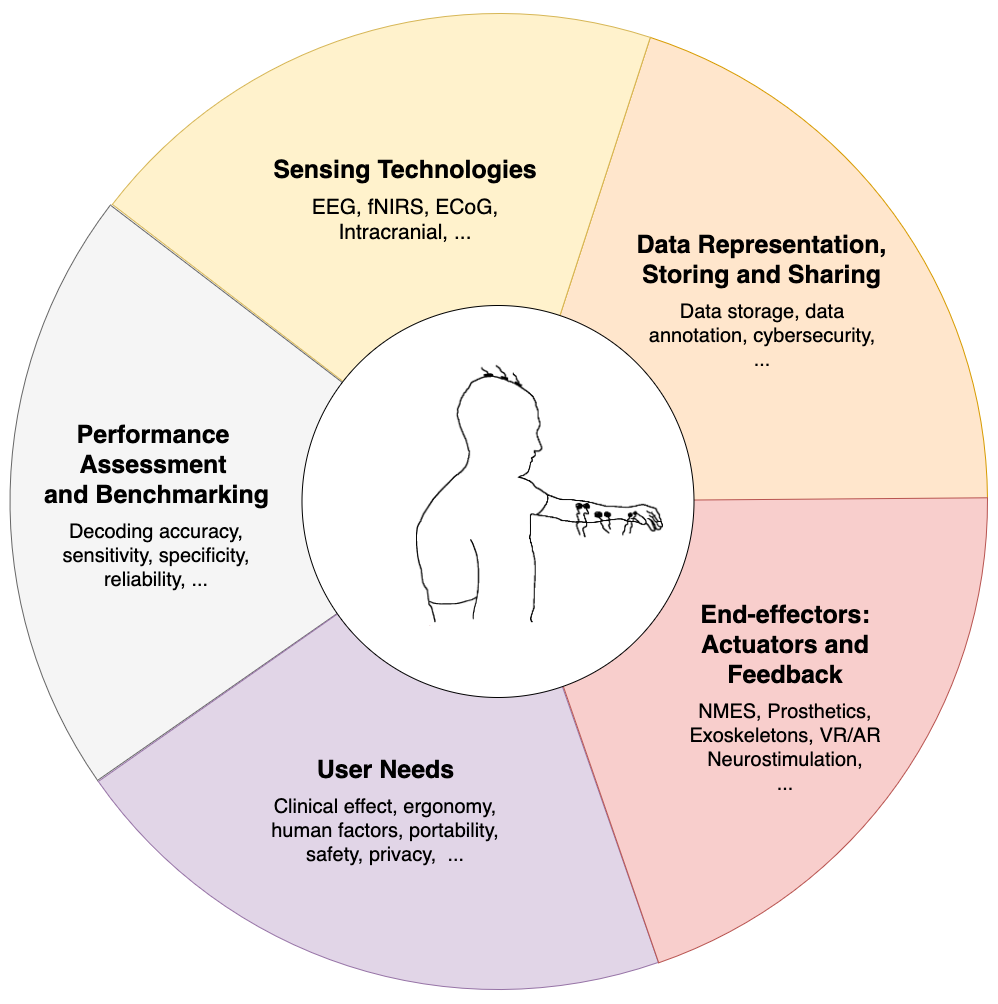 To address this issue, I chair the group on Neurotechnologies for Brain-Machine Interface, This IEEE Standards Industry Connections activity launched in May 2017, gathers diverse stakeholders across neurotechnologies, research institutions, industry and government agencies to identify and address gaps in the existing standards in Brain-Machine Interfacing (BMI). It also aims to raise awareness of the importance of standards in the field.
Our working group has contributed to the OECD working paper on "Responsible Innovation for Neurotechnology Enterprises" released in Autumn 2019, and will soon release a Standards Roadmap: Neurotechnologies for Brain-Machine Interfacing. This document aims at providing an overview of the existing and developing standards in the field of neurotechnologies for brain-machine interfacing. It is mainly focused on systems that provide a closed-loop interaction with artificial devices based on information extracted from measures of the activity in the nervous systems.
Website: IEEE Standards Association group on Neurotechnologies for Brain-Machine Interface
Documents
Recent Activities (Selection)
15 Nov 2022: Geneva Center for Security Policy (GCSP): Executive Course: Frontiers in the digital domain: the geopolitics of cybersecurity and artificial intelligence, Geneva, Switzerland. Invited Speaker

13 Oct 2022: Geneva Science and Diplomacy Anticipator (GESDA) Summit: Session Navigating the NeuroTech Compass, Geneva, Switzerland. Invited Speaker

11 Oct 2022: International Conference in preparation for the Ninth Review Conference of the UN Biological Weapons Convention: Neuroscience, Neurotechnology, and Biosecurity session - Talk Opportunities and risks of Neurotechnologies and Brain-Machine Interfacing, New Dehli, India. Invited Speaker

12 Aug 2022: UN Human Rights Council Advisory Committee: Assessing human rights implications of neurotechnologies: towards the recognition of neurorights, Geneva, Switzerland. Invited expert

15 Jul 2022: Brain Informatics Conference: Panel on BCI-Security and Privacy: Challenges and Solutions, Padova, Italy. Invited Panelist

18 May 2022: Geneva Science and Diplomacy Week: Preventing the Misuse of Emerging Technologies: What can be done and which governance system to put in place?, Geneva, Switzerland. Invited speaker

7 Dec 2021: GCSP Virtual Event: The Good, the Bad, and the Ugly: Emerging technologies and their risks, Geneva, Switzerland. Invited panelist [Video]

1 Dec 2021: EPFL Innovation Forum NeuroTalks Series - Closing the Regulatory Gap, Geneva, Switzerland (Online event). Invited speaker

4 Nov 2021: Annual meeting of the International Neuroethics Society (INS). Panel: Minding the Gap: Equity and Justice in AI & Neurotechnologies. Invited panelist

30 Oct 2021: IEEE Conference Engineering in Medicine and Biology (EMBC). Workshop: Accelerating Innovation: from Ideas to Standards. Invited speaker

15 Sep 2021: International Neuroergonomics Conference. Expert Panel: Ethics of AI for Neurotechnologies. Organizer

14 June 2021: Virtual BRAIN Initiative Investigators Meeting. Workshop: Perspectives on the complexities of improving neuroethics engagement among writers, neuroethicists, and scientists in academia and industry. Moderator. [Report]

19-20 May 2021: OECD Workshop "Neurotechnology in and for society – deliberation, stewardship and trust"

March 23 2021: WIPO Technology Trends Report (WITT): Launch of the Second WITT on Global Trends in Assistive Technology. Invited Panelist

Mar 4 2021: International BCI Meeting, Workshop "On the need of good practices and standards for Benchmarking Brain-Machine Interfaces", Online event. Workshop organizer

Jan 14 2021: Workshop on Brain-Computer Interfaces. "Capturing Technology. Rethinking Arms Control". German Federal Foreign Office. Invited speaker

Nov 6, 2020: Panel: At the interface of AI, Neuroscience and Policy. Marie Curie Alumni Association, Online Conference. [Video]

September 2020: Talk "Overcoming Barriers for Safe and Efficient Applications of Brain-Machine Interfacing (BMI)/Brain Computer Interface (BCI) for Clinical and Consumer Applications through Standardization", 1st IEEE International Conference on Human-Machine Systems, Rome

July 23 2020: 1st Brain-Computer Interface Un-Conference, Digital Conference. Invited speaker

July 19 2020: IEEE World Congress on Computational Intelligence, Digital Conference. Invited speaker, workshop: Bridging the gap Bridging the gap between Computational Intelligence and Neuroscience in BCI

July 15 2020: IEEE COMPSAC, Digital Conference. Invited speaker

June 2020: Talk at Workshop Global Perspectives on Responsible Artificial Intelligence, Freiburg, Germany,

Standards for Neurotechnologies and Brain-Machine Interfacing Workshop, Graz BCI Conference, Graz, Austria, 16 September 2019

Special session on standards at the IEEE SMC 2018 BMI workshop. Miyazaki, Japan (7-10 October 2018)

Presentation at the Meeting of the global and emerging brain initiatives. IEEE SMC 2018. Miyazaki, Japan (7-10 October 2018)
Workshop on standards for Neurotechnologies at the International BCI meeting at Asilomar, USA (21-25 May 2018)
Face to face meeting at the IEEE International Systems, Man and Cybernetics Conference Banff, Canada (06 October 2017)
Special session Healthcare Innovation: Inspiring Global Open Consensus Standards, IEEE EMBS conference Jeju Island, Korea (14 July 2017)
Sponsors and partners